𝐂𝐡𝐫𝐢𝐬𝐭𝐢𝐚𝐧 𝐁𝐚𝐛𝐥𝐞𝐬 𝐡𝐚𝐬 𝐟𝐮𝐧𝐧𝐲 𝐫𝐞𝐩𝐥𝐲 𝐭𝐨 𝐧𝐞𝐭𝐢𝐳𝐞𝐧 𝐰𝐡𝐨 𝐜𝐚𝐥𝐥𝐞𝐝 𝐌𝐌𝐅𝐅 𝐦𝐨𝐯𝐢𝐞𝐬 "𝐲𝐮𝐜𝐤"
admin
December 31, 2021
108
Christian Bables has a witty reply for netizens who are choosing the latest Spiderman movie over the entries of the Metro Manila Film Festival 2021 (MMFF).
Christian is the lead star of the MMFF 2021 entry Big Night!
He recently won the Best Actor in a Leading Role award in the MMFF Gabi ng Parangal held on December 27.
On December 26, the actor quoted a tweet about the lack of support from moviegoers.
It read (published as is), "Y so salty on MMFF? Dis isnt d 1st tym na nagdedelay sila ng foreign films during MMFF week. We can hav Spiderman all we want after nman eh. 'Big Night,' 'Kun Maupay Man it Panahon,' & 'A Hard Day' look promising. We cant expect our film prod to improve if we'll not support it."
The Philippine showing of Spiderman: No Way Home was delayed until January 8, 2022 to give way to the two-week screening of MMFF movies.
Here's Christian's caption for his retweet: "'We can't expect our film prod to improve if we'll not support it'
"Louder for the people at the back."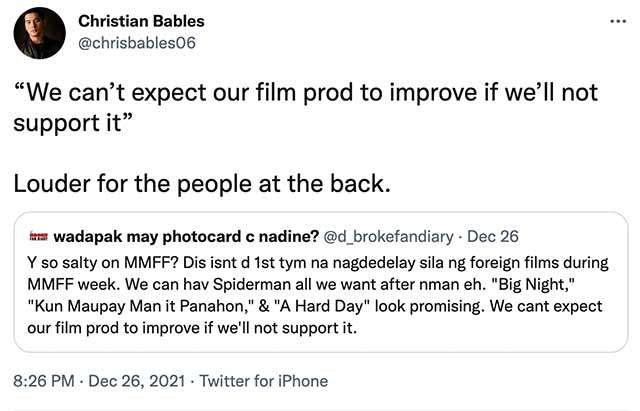 A netizen replied to Christian (published as is), "they showed these movies over spiderman nwh??? yuck! nilangaw tuloy mga sinehan!"
Instead of going on the defensive, Christian had a funny reply (published as is), "Ui maganda din mga films na yan 🙂 hahaha p*ta pati nga si spiderman katabi ko sa sinehang manood ng #BigNight ano ba."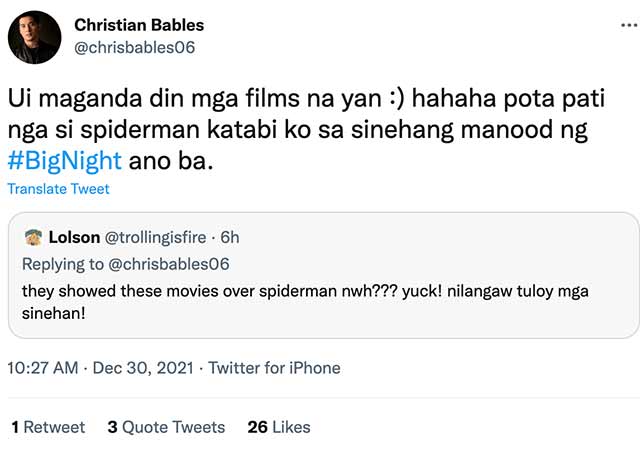 Christian's reply drew supportive comments from his fans: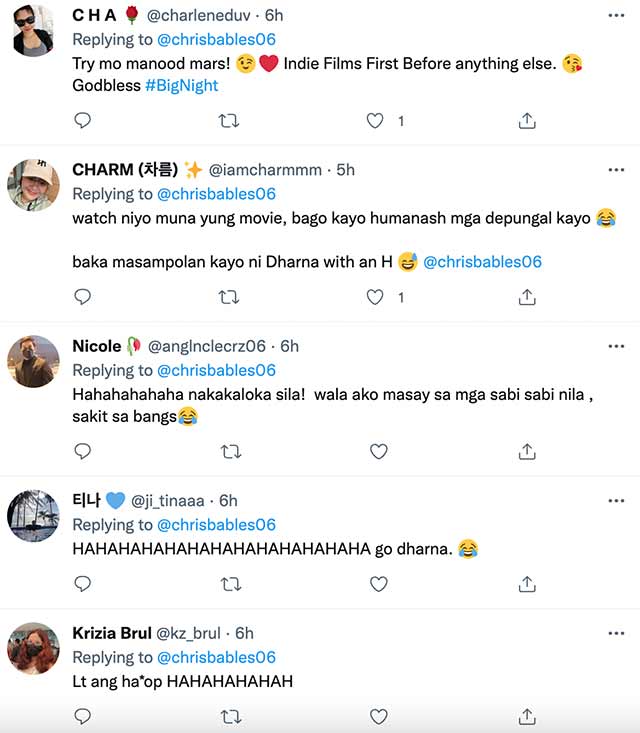 On Facebook, Christian reposted the screenshot of his tweet and wrote in the caption, "Ganito sumagot. #BigNight"